ADVANTAGES
Discover all the advantages of Woodeck range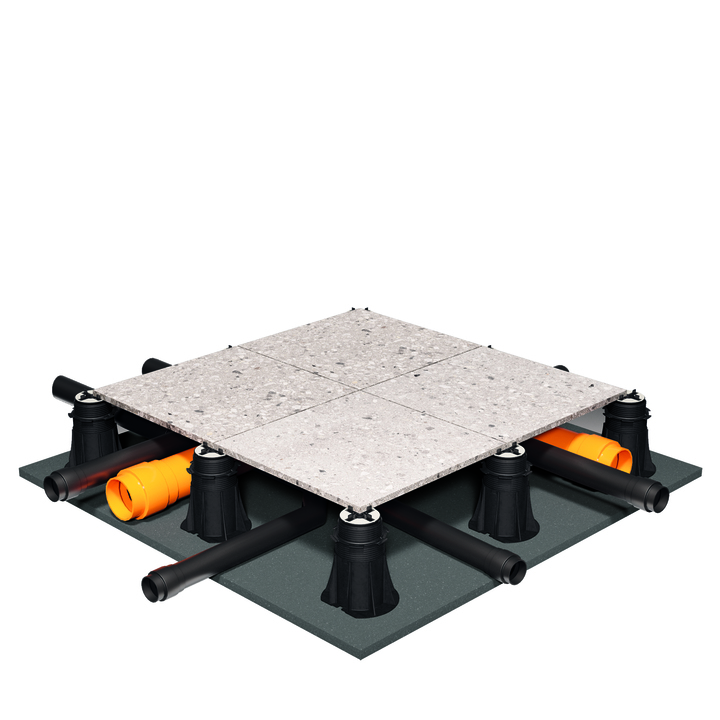 Great hiding place for pipes and fixtures
The gap between flooring and the underlying membrane allows for the passage of pipes and systems which are therefore hidden.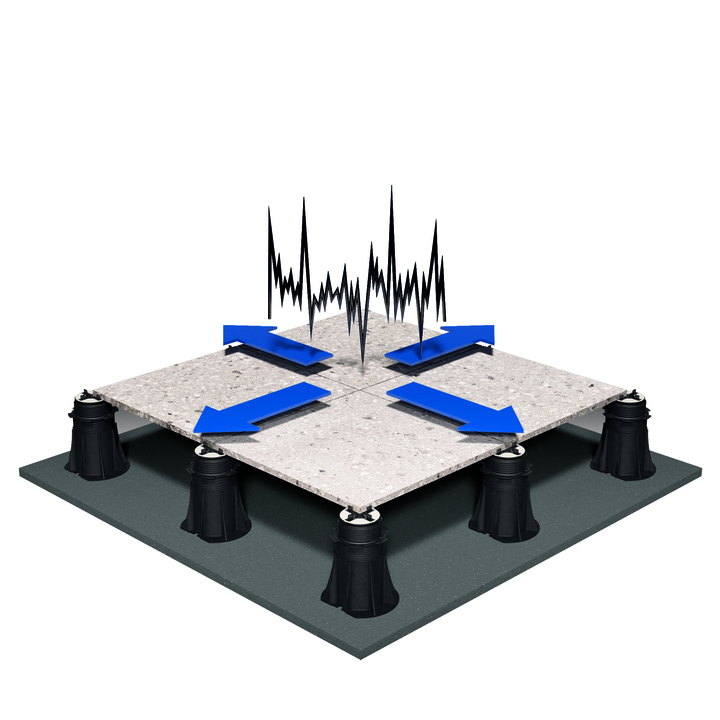 Excellent absorption of expansions
The indipendence of the flooring and the supports allows for the absorption of expansion and structural movements.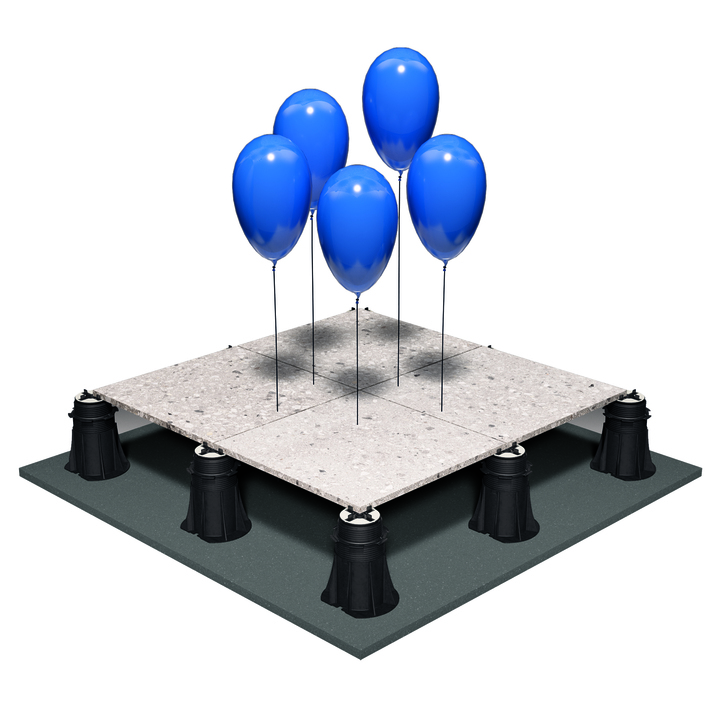 Significant weight reduction
With the elimination of the concrete screed, the raised system allows for a substantial reduction in the weight that weighs on the structure.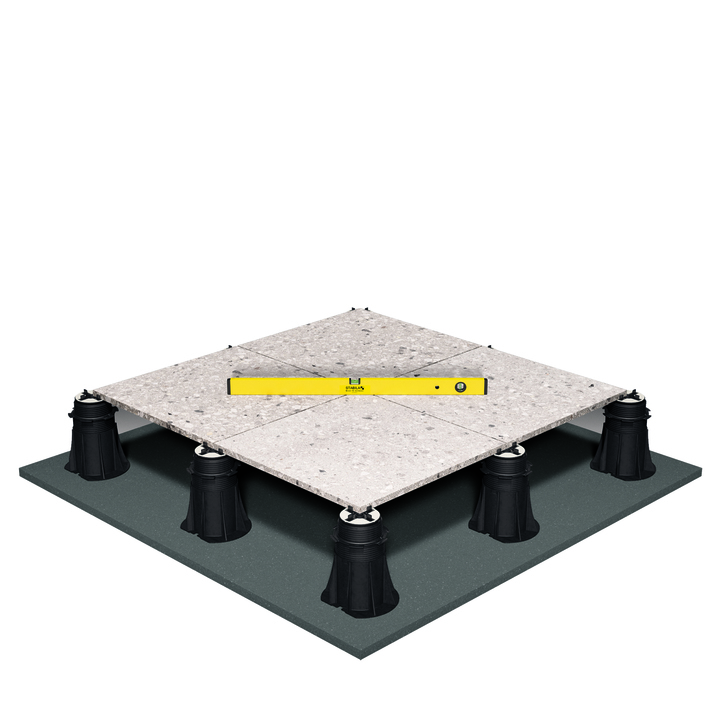 The floor is always flat
The system makes it possible to compensate for small unevenness and slopes of the laying surface. In the event of laying on a waterproof membrane, this can be easily inspected given the absence of mechanical fixed parts between the covering and the supports.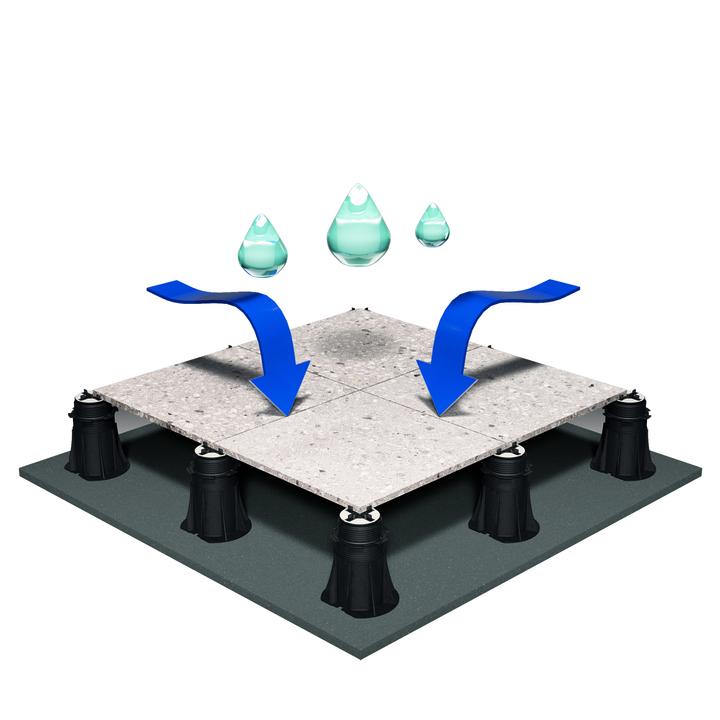 Quick water drainage
The small gap between one slab and another allows water to discharge on to the laying surface and facilitate rapid drainage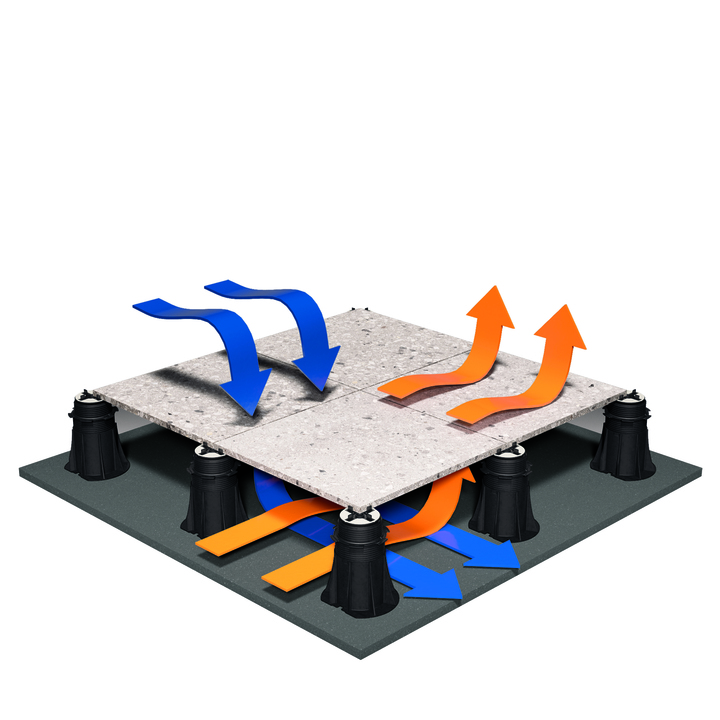 Better thermal insulation
The void between the paving and membrane encourages constant air circulation, extending the life of the waterproofi ng and improving heat insulation and protecting the surface from UV degradation.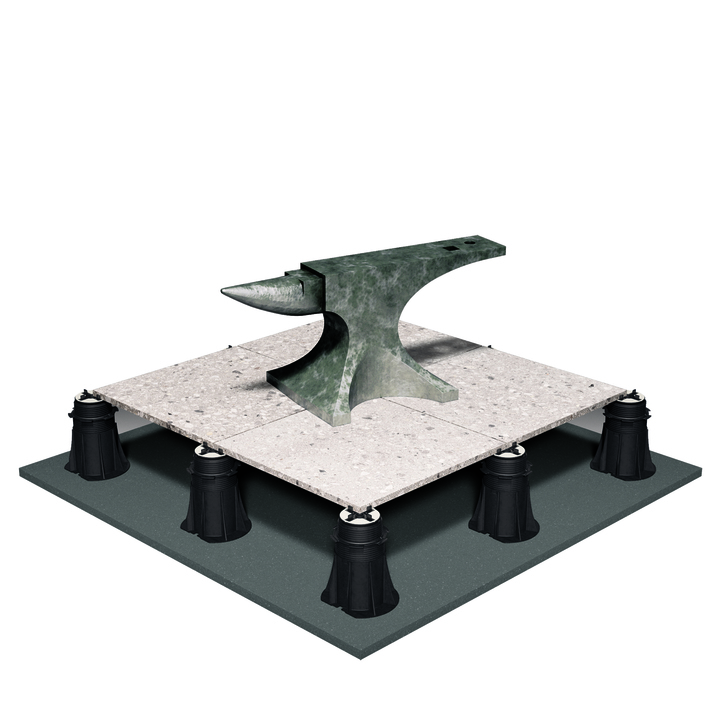 Strong weight resistance
The sturdy structure of the support given by the experience in formulating the compound and also by the continuous thread between the base and the screw, guarantees a strong, safe and long-lasting product.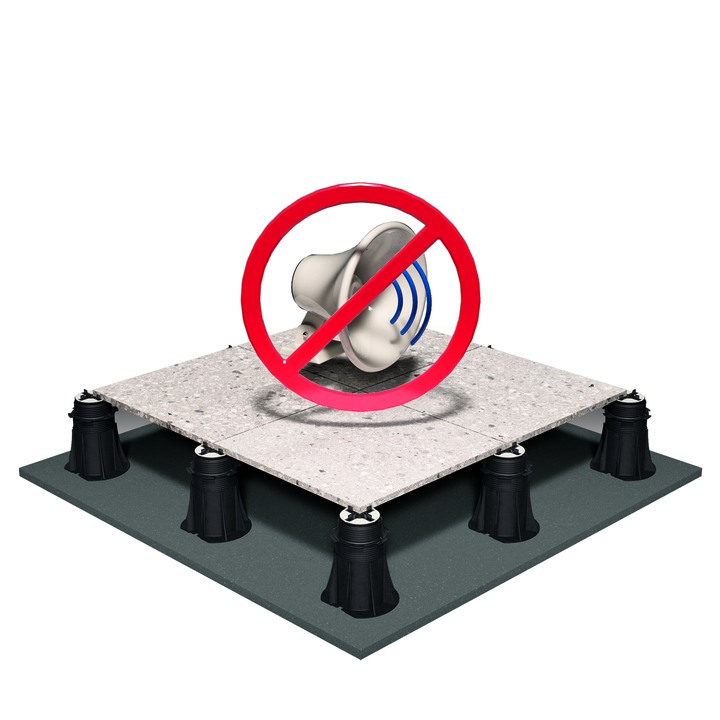 Best sound insulation
Obtained thanks to the "bi-component" anti-slip and anti-noise head.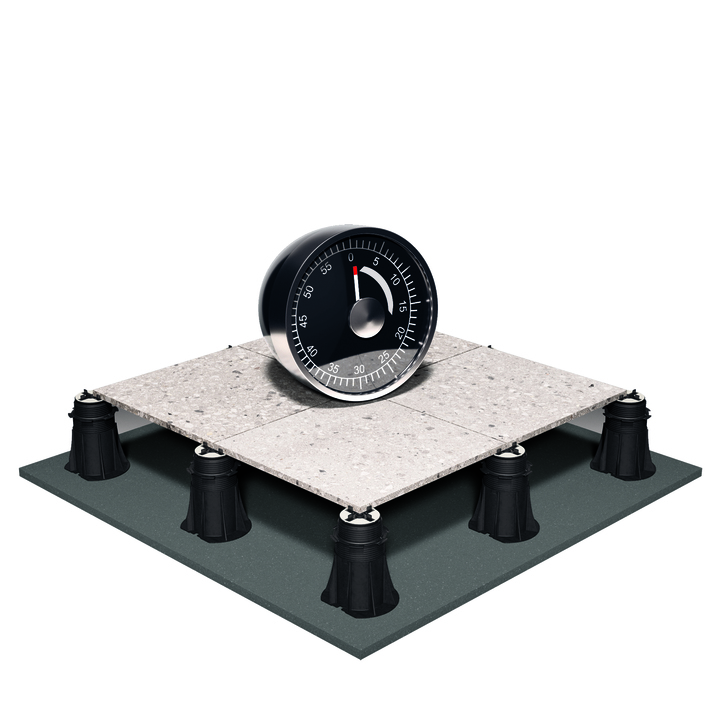 Speed of installation
The speed of installation ensure considerable advantages in site management, generating economic savings; in the event of renovations, the shorter needed time reduces any inconvenience for the people who live there.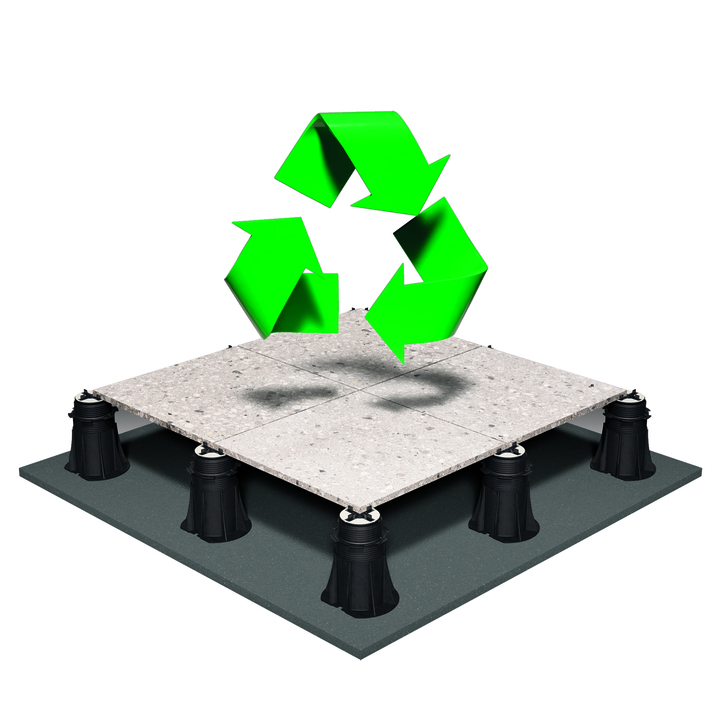 Ecology and cleanliness
Everything is recyclable, both the flooring elements and the supports substructure. At the end of the life cycle of the building and/or the floor, everything can be easily removed and recycled without impacting the environment. The "dry" installation system does not require adhesives or chemicals.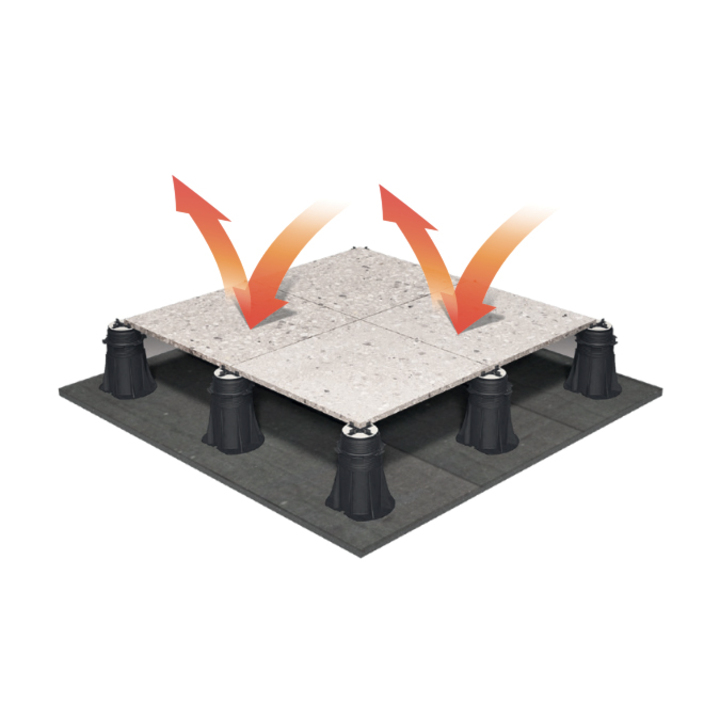 Protection of the waterproof coat
A raised floor laid on a flat roof above the waterproof covering has the function of protecting the covering itself from inclement weather and UV rays, natural ventiltion is created in the space between the waterproof covering and the floor which preserves and extends the life of the covering itself.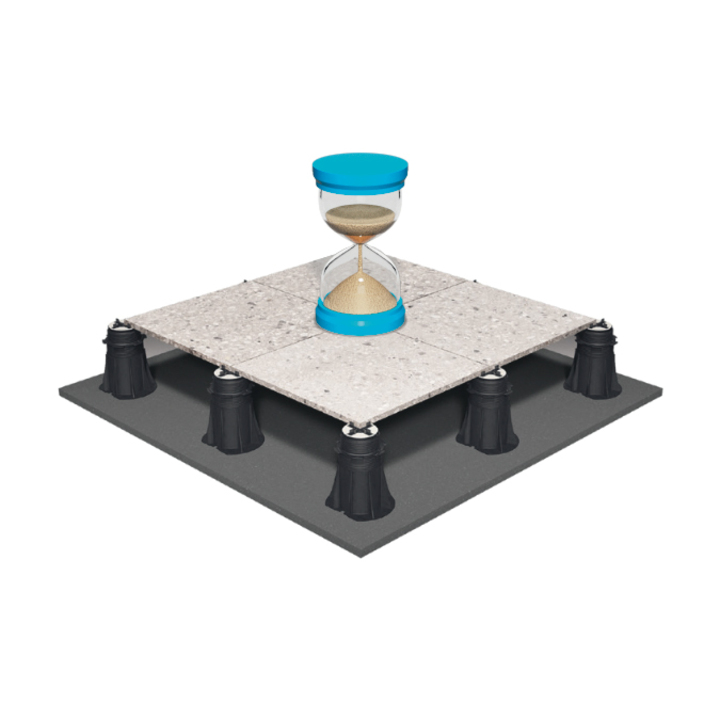 Durability of the flooring
A raised floor is 100% resistant to expansion due to changes in temperature and/or atmospheric agents, unlike traditional glued floors which after a few years begin to crack until they are completely detached from the screed.