REQUEST INFORMATION
Ask for information now. You we'll be contacted by an our appointe near to you.
Suporte com Autonivelamento para piso elevado "SE" com cabeça bicomponente para viga de alumínio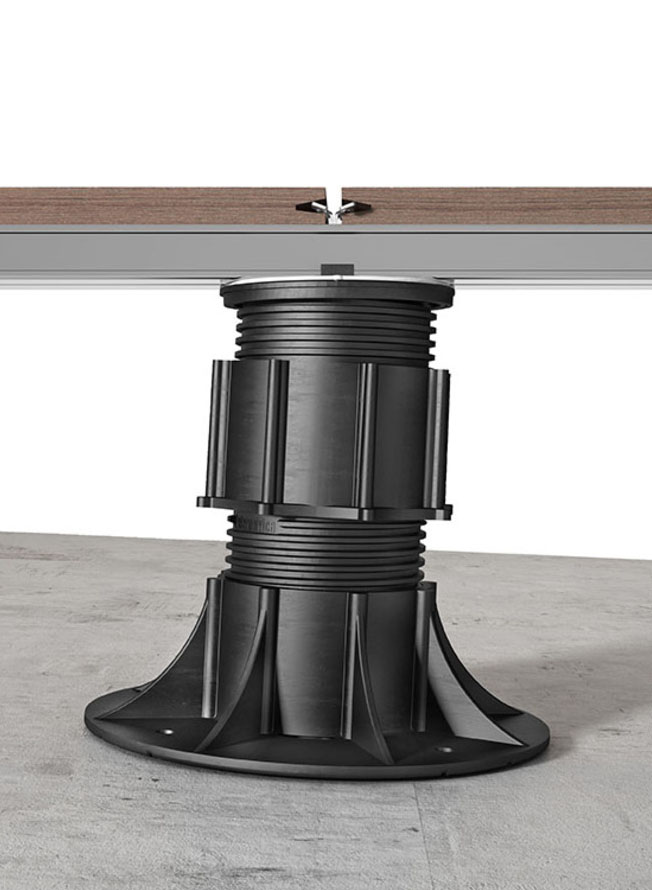 Suporte com Autonivelamento para piso elevado - Eterno SE
O Suporte com Autonivelamento para piso elevado é a solução ideal a todos. Com sua extremidade inclinável, o suporte ajustável SE é um pedestal projetado para todos os tipos de vigas disponíveis atualmente no mercado.
O principal ponto forte do produto é a sua cabeça autoniveladora, que é capaz de acomodar a viga de alumínio com um simples clique. O desempenho inigualável da cabeça inclinável é capaz de eliminar inclinações de até 5%.
O resultado? Graças ao Suporte com Autonivelamento para pisos elevados, o piso inteiro fica perfeitamente nivelado, sem necessidade de trabalho adicional ou espaçadores extras. É a solução mais flexível, elegante e segura que já foi concebida para aplicações de terraços, revestimentos de piso e borda de piscina.
A viga de alumínio é conectada à cabeça de suporte SE e sua rotação é impedida por um sistema automático de travamento, permitindo alto grau de ajuste e o nivelamento da subestrutura.
Em um lado da viga, grampos de aço Eterno Ivica têm a possibilidade rolar pelo trilho e podem ser inseridos em qualquer ponto da viga, permitindo o revestimento com tábuas em ângulo de até 40º.
O lado oposto pode ser usado no lugar, para parafusar quaisquer outros tipos de grampos. Seu formato permite que os parafusos sejam inseridos de uma forma mais fácil e segura, e torna nossa viga de alumínio universal.
Grampo e viga de alumínio
Vinte anos de experiência no design de soluções de piso elevado externo certamente valem alguma coisa.
Um dos exemplos é a criação de uma viga de alumínio e um grampo de aço projetados especificamente para aumentar a velocidade e a precisão em todas as etapas da instalação das tábuas com autossustentação.
- Vigas de alumínio com um trilho em um dos lados que permite aos grampos Eterno Ivica deslizarem, e com uma abertura longitudinal do lado oposto, para prender qualquer tipo de grampo e tábua.
- Grampo com base arredondada para inserção em vigas do tipo baioneta. Desta forma, o grampo pode ser inserido em qualquer ponto ao longo do trilho e virado em até 40º sem ser restringido pela perpendicularidade que geralmente é criada durante a instalação de juntas, grampos e tábuas.
O grampo de ser totalmente customizado mediante solicitação.
CALCULANDO A ALTURA DO SUPORTE:
A = Altura do piso acabado
B = Altura da articulação
C = Altura do assoalho
H = Altura do suporte
EXEMPLO:
A = 100 mm
B = 25 mm
C = 30 mm
H = A - (B + C) = 100 - 55 = 45 mm = 

{

SE1 (mm 37,5 ÷ 50)
NM2 (mm 40 ÷ 70)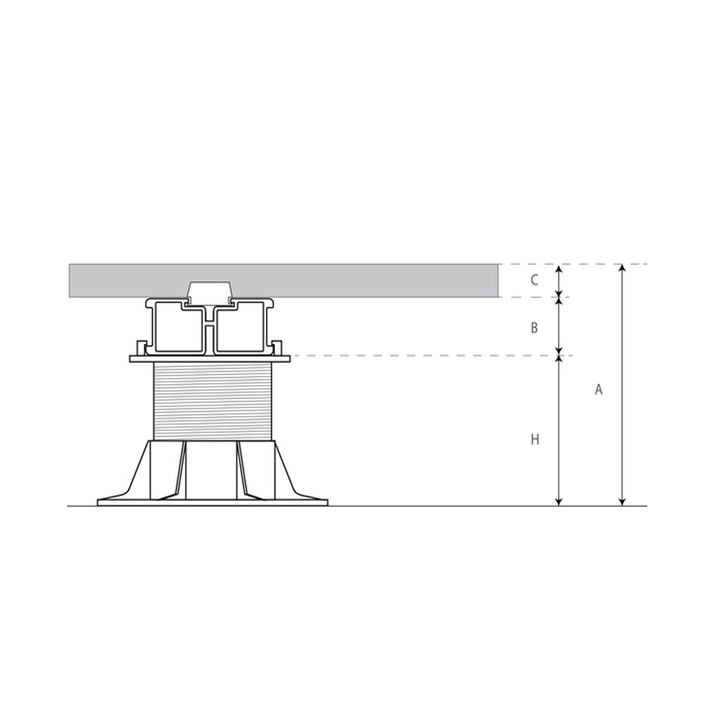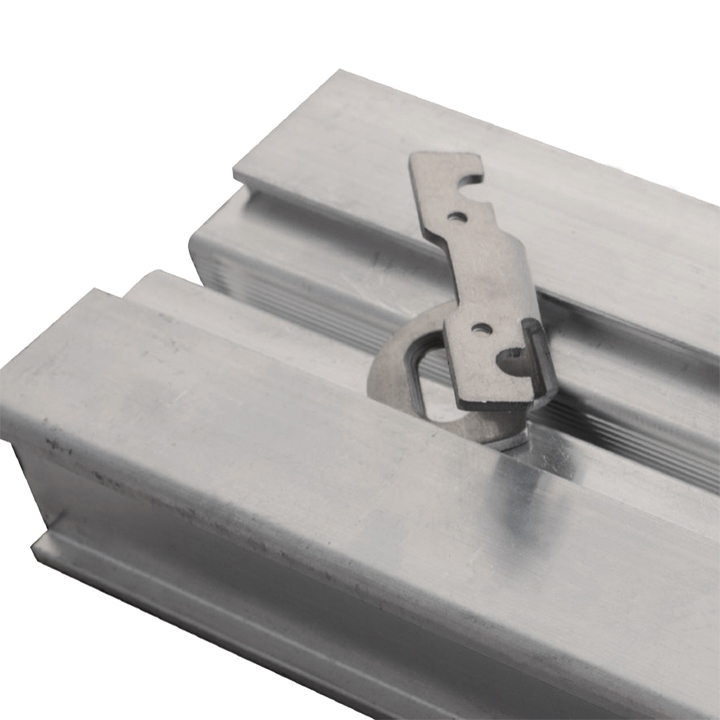 | Comprimento dos suportes (mm) | Quantidade de suportes (m2) | Metros de articulação (m2) |
| --- | --- | --- |
| 300 x 300 | 11,5 | 3,15 |
| 400 x 400 | 6,5 | 2,75 |
| 500 x 500 | 4,5 | 2,1 |
Grampo/mt: 1 mt (1000 mm): largura do assoalho x2
es. 1000 mm : 140 mm = 7,14 x 2 = 14,28 grampo/mt
Pedido de informações sobre: Suporte com Autonivelamento para piso elevado "SE" com cabeça bicomponente para viga de alumínio